Miami Fishing Report Kids Fishing this week on Capt. Jay's Spellbound. We had the privilege of taking quite a few kids on their first deep sea fishing trips this past week. We caught a bunch of Miami Fishing Report Kids Fishing on Capt. Jay's smaller school size "snake" Kingfish & some larger Amberjacks. Some light tackle fishing over some shallow wrecks produced a few larger Barracudas and one big Jack Caravelle.
The adventure begins when the kids board the boat in the Haulover Park Marina on Miami Beach. For most of our young anglers, this is their first time on a reel Sport Fisherman. Just the size of the boat, all of the big tackle and the live wells full of larger baits gets the kids exited. Once we head out the inlet and get the lines in the water the real fun begins. Then it happens… "Fish On" . The first rod bends over. Line comes off the reel as the clicker screams. The mate helps guide our kids through the fight… and a few moments later, victory! Their fist fish comes over the rail. The excitement and feeling of success pours over the entire group. If it's that first fish it does not matter if it is a Blue Runner or a Blue Marlin… They got to catch a fish "this big" !
On the shallow wrecks we fish the live bonita's on light #6 wire with an 8/0 lead hook and a #2 treble hook stinger. We fish 20 lb to 30 lb line tied directly to the wire leader. We lower the bait over the wrecks on a down rigger. Typically we will catch; Kingfish, Great Barracuda, Cobia, Grouper, Amber Jacks & Sharks. We will also fish a live Bonita on the same rig on the surface. You can add Sailfish, Tuna, Mahi & Wahoo to the list.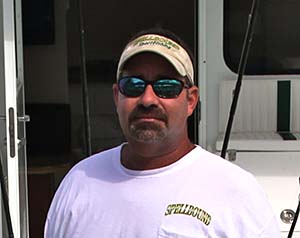 Capt. Jay owns and operates the Miami fishing charter Capt. Jay's Deep Sea Fishing. Capt. Jay has fished Miami for more than 40 years and holds several I.G.F.A world records and has won multiple tournaments, including the METT tournament and the fun fish boat in the Miami Billfish tournament. Capt. Jay discovered a new species of tilefish and had the honor of naming the fish (Bahama Tiger Tilefish).