We are located at the Haulover Park Marina which is very close to South Beach, downtown Miami, Sunny Isle and Adventura. We are also close to the fish as the fishing grounds are just minutes away from the dock. Our boat, the SPELLBOUND, leaves the docks to make its way to the fishing grounds which are only a few minutes from the marina. We provide fishing trips for all levels of experience. Whether you are new to this sport are a seasoned angler we have trips that will meet your needs.
We offer a 4-hour half-day trip. This is our most popular option. Even though it is only a four hour trip with our location so close to the Gulfstream we can be out and fishing in no more than 15 minutes giving you 3.5 hours of fun and excitement. If you want a little more or a lot more time on the water hooking the fish then we also offer a ¾ day trip, 6 hours, and a 8hr, full day charter too.
With all of these trips, you have an experienced captain crew to assist you with all of your needs.
From a young age Captain Jay knew what he wanted to do. When he was only 18 months old he caught his first fish with his father. With that 2 lbs. flounder he was, pardon my pun, hooked. He is actually a 4th generation fisherman so fishing is in his blood. He has spent his whole life in or around fishing boats and poles and lures. At age 13 he started his journey to becoming the Captain of his own fishing charter boat.

At age 13 he took a job as second mate aboard the 80 foot "New Popeye" party fishing boat. From there he continued to work on fishing vessels in New Orleans throughout his college years. During grad school in Miami, he worked as a mate on the 24' "Sweet Gina" taking out groups of three anglers to the Miami fishing grounds.

Eventually, when he was 21 he landed a Captain position on a 90'party fishing boat doing two and three-day trips to the Bahamas. This was his most memorable experience. On board this vessel he was able, in the seven years he stayed on as Captain, to land just about every great fish in the Gulfstream from a 9 lbs. Yellowtail Snapper to a 90 lbs. Grouper to a 600 lbs. Giant Blue Fin Tuna to a whopping 800 lbs. Blue Marlin. He has caught all of them and can take this expertise to put his customers on the fish.
The Bahamian charters were only for the spring, summer and fall months so in the winter he took charters in Miami. His second boat, the "A QUIT ALL" ran out of Haulover Park Marina. After running that boat for four years he took the next step and acquired sole ownership in his new boat the "SPELLBOUND".
The "SPELLBOUND" took three years to build and he used his over 30 years of experience to design it. The results is the 57'long and 20'wide U.S.C.G. licensed and inspected charter fishing "battle wagon". He built it to be the largest charter fishing boat and capable to accommodate 20 or more people.
Captain Jay is an accomplished fisherman. He has won numerous awards like the first place fun fish boat in the Miami Billfish Tournament. He holds many I.G.F.A. records, METT Tournament wins and is proud to have guided his customers to their own I.G.F.A. records too.
He loves being a fisherman. He loves taking people out to fish. He loves to see the look in the eye when that kid or adult lands his first fish. He knows that they are hooked just like he was 40 years ago.
Capt. Manny is a childhood friend and fishing buddy of Captain Jay's. The two of them grew up fishing as much as possible as drift boat "rats" since the age of 12. Capt. Manny took his love for fishing and made it his life. He has worked on numerous boats throughout his career. With more than 27 years of professional fishing experience Capt. Manny has plenty of tournament experience and is a specialist in Kite fishing for Sailfish, Trolling for Tuna, Mahi-Mahi and other trophy fish, Shark fishing, live bait and bottom fishing for grouper, snapper and other reef fish too. Capt. Manny will make your day fun and exciting. He will use his expertise and love of the sport of deep sea fishing to get you on the fish and hopefully hooked for a lifetime.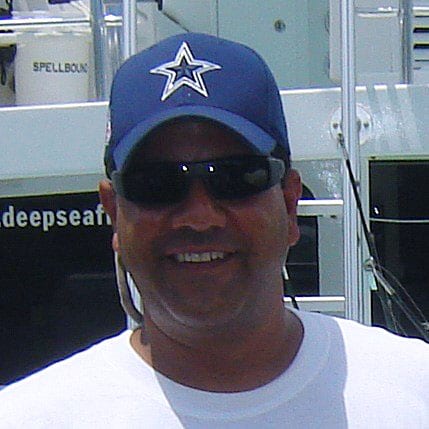 "SPELLBOUND" THE ULTIMATE FISHING MACHINE
The fishing charter boat, SPELLBOUND is a custom built 57′ long and 20′ wide USCG licensed & inspected charter fishing "Battle Wagon". It was designed with 30 years of experience to make it the ultimate fishing machine. It is one of the largest charter fishing boats in Miami. It is powered by twin 400 hp diesel engines with two generators.
The SPELLBOUND is licensed to carry up to 20 passengers. This means we can take 2 and even up to 20 people in one trip. Therefore we specialize in custom Miami fishing charters for two people… or groups of as many as 20 passengers. Come have a day with your buddies or family or bring the whole wedding party we can accommodate all size parties big and small.
The entire inside cabin is completely air-conditioned that's right, we offer A/C at Sea. With a new clean bathroom (head), lots of room including custom appointed seating for 18+ inside. The Spellbound has a complete galley with stereo, iPod, Wi-Fi and flat screen HDTV. We try to offer our fishing charter customers all of the comforts of home, while out at sea.
The SPELLBOUND was built with all the creature comforts but what it was really built for was fishing with a 28 ft. Tuna tower, 44 ft. Outriggers and three down riggers. The SPELLBOUND's flying bridge is completely covered and shaded from the sun. Therefore we can easily seat 12 people, plus two fishing fighting chairs on the second level. There is also three more fishing "fighting" chairs in the "cockpit", along with three live bait wells that carry a total 500+ gallon of live bait storage.
We have the latest in fish finding technology and constantly update our systems. We have GPS, AISM EPIRB, VHS, WAAS, Auto Pilot, Radar, Sonar and a Satellite Weather & Chart Plotter.
We offer our customer's use of a complete set of custom built tournament tackle for fishing the waters of Miami. Captain Jay actually built all of the rods on the boat himself. We have spinning and or conventional tackle ranging from 6lb. to 130lb. From Marlin, Swordfish & Sharks to snapper and Grouper we have the right tackle for all different species of fish, age and skill level of our anglers & fishing styles. We are the best fishing charter Miami has to offer.
The SPELLBOUND offers all of the amenities you would expect on land out on the sea. We are a luxury fishing experience. The boat has a full galley that can seat up to 18 people in air-conditioned comfort. Our Captain and crew have over 30 years of experience in the waters around Miami. We can provide outstanding service for all ages and levels of experience and with our large size we can accommodate large groups too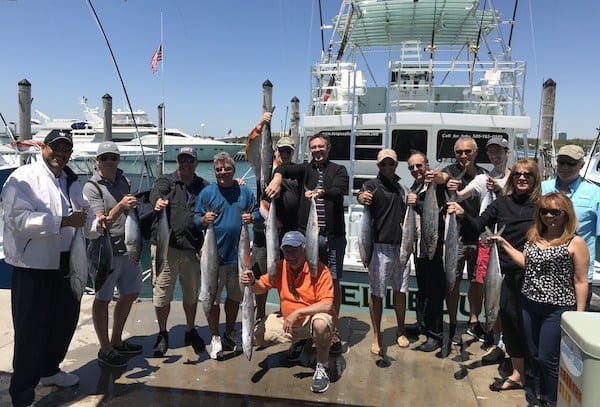 Can accommodate up to 20 people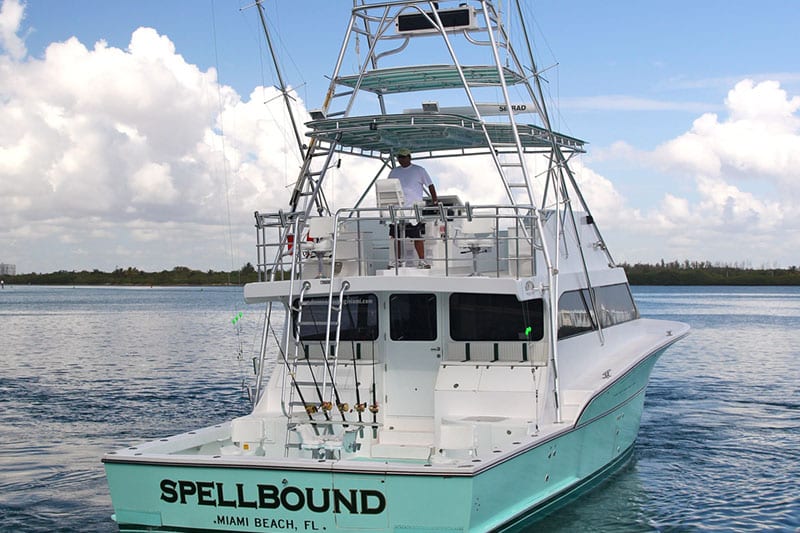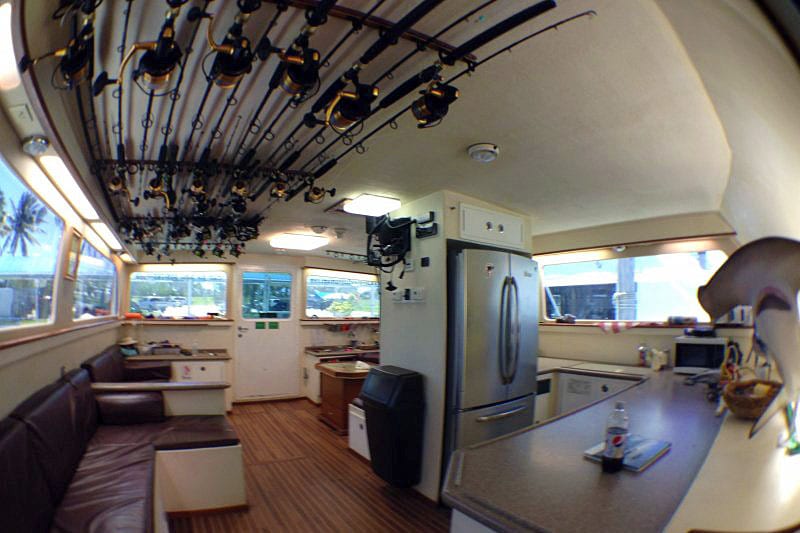 Spacious Interior with AC