Grouper Fishing Miami… Capt. Manny is just tearing up the grouper fishing this month. December is the last month that we are allowed to harvest grouper until May 1st. Although the best months of the year to target Grouper off Miami and Miami Beach are the winter months. Our state fishing regulations prohibit the harvest of most Groupers after December 31st. With the season closed until May 1st. For more information about Florida State fishing regulations.
Capt. Manny is just getting after the groupers before season closes. Most of the groupers Manny has been catching are Black Grouper in the 20 pound range. With some a bit smaller and some almost 30 pounds. He has also caught a few nice sized Red Groupers and a large 60+ pound Warsaw Grouper. Along with the Black groupers I have also added a few Red Groupers and a Gag Grouper.
How We Fish For Groupers in Miami
Most of our larger grouper are caught on the ship wrecks. The most productive Black Grouper wrecks are in depths of about 150′ to about 260′ of water. The bait of choice is a small live Bonita or a large Pinfish. We fish the live bait on a long leader at least 30 foot long and as long as 100 feet. Although the choice of weight and leader length are dependent on the wind and current of the day. The hook we like to use is a VMC 8/0 to 10/0 offset double strength wide gap circle hook. Although we will vary the gook size to match the bait. Not necessarily to match the size of the fish we are targeting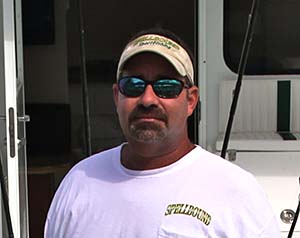 Capt. Jay owns and operates the Miami fishing charter Capt. Jay's Deep Sea Fishing. Capt. Jay has fished Miami for more than 40 years and holds several I.G.F.A world records and has won multiple tournaments, including the METT tournament and the fun fish boat in the Miami Billfish tournament. Capt. Jay discovered a new species of tilefish and had the honor of naming the fish (Bahama Tiger Tilefish).