Every Fall off Miami and Miami Beach, typically around to fool moon in October we see a migration of wahoo through the area. This year we were not let down. We found some Fall Wahoo Fishing Miami good action with Wahoo tight to the off shore reef. Just out side of the reef in about 100 to 300 feet of water, the Wahoo were mixed in with the Little Tunny Tunas. Most of the Wahoo were caught trolling with a variety of lures and baits. Rigged fresh Ballyhoo and fresh cut Bonita strips were the best producers.
Fall Wahoo Fishing Miami is best trolling with planers. Getting the baits down deep, or at least just below the surface will get you more wahoo bites. We fish double hook rigs with hooks at least a 9/0 size. The larger hooks act as our metal leader to prevent cut offs. Some baits we will rig on #8 piano wire to prevent cut offs. Wahoo can be caught on tackle as light as 12 pound. Although we use mostly 30 pound to 50 pound tackle.
Wahoo make fast runs, and can swim at nearly 60 miles per hour. Aggressive strikes and violent head shakes are the Wahoo's calling card. With amazing shades of deep blue and purple, tiger striped with silver and almost every other metallic gray, wahoo are masters of camouflage. It can be hard to see a "lit up" wahoo right next to the boat in the deep blue waters of the gulf stream. I remember when I was a mate and had a "green" wahoo at the transom in the wake just behind the boat. The capt was screaming for me to gaff the fish, but I could not see him clearly. Finally the Capt. said just gaff the splash ! Thats just what I did and landed a perfect head shot, never saw the fish in the water.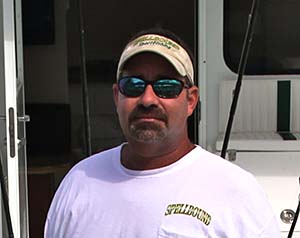 Capt. Jay owns and operates the Miami fishing charter Capt. Jay's Deep Sea Fishing. Capt. Jay has fished Miami for more than 40 years and holds several I.G.F.A world records and has won multiple tournaments, including the METT tournament and the fun fish boat in the Miami Billfish tournament. Capt. Jay discovered a new species of tilefish and had the honor of naming the fish (Bahama Tiger Tilefish).