Our Close Friend Little Adam
This past week a good friend of mine died too young. At an age of 42 Adam Agusta know to all who new him and many that did not as "Little Adam". He was a preeminent character at the Haulover and Castaway docks. I met Adam as kids fishing together on the different head boats of the Kelly Fleet more than 30 years ago. We were both little "fish heads" and got along famously right from the beginning.
Don't Miss Out on The Last Days to Catch Grouper This Season
Many people have known Adam in many different ways. I just wanted to let others know the way I knew him. Adam spent most of his adult life fighting all of the problems that come with "recreational pharmacology" and a poor stream of decision making. With that said I would put Adam in a very small group of elite fishermen. He was truly one of the best. Just put a rod in his hands and he would make "it happen". Although more impressive were his abilities to know just where to fish, which is truly the magic of fishing Miami. If you combine those two skills with a unique ability of knowing the 'Charter Fishing" business, and amazing people skills you get Little Adam. The best charter fishing mate in the business !
When most of us graduated from high school and went off to college, Adam took a different path. He left high school behind for a job on the Therapy IV at the age of 17. He quickly became one of the best mates on the dock, and that meant best earner. Adam and I stayed friends while I was off to college, fishing together when summers rolled around. Summers fishing the Bahamas on the Atlantis or just catching a few "grovers" on the Hurricane, always fun.
After I graduated from school and ran the Atlantis to the Bahamas Adam would occasionally work for me or just ride along fishing. Seven seasons later I was operating my own charter company and Adam was there to help. As a mate or just a never ending source of fishing information. I was never to proud to ask Adam "how deep would you fish the wire".
I have so many "Little Adam" stories that it is hard to chose which are the best. One of my favorites although, was a day that our lead customer was just "dying" to catch a big Bull Dolphin. It was March and we had seen and caught quite a few large Dolphin that week, so we felt quite confident that we would get a good shot at a nice fish. With two kites out, Adam hated two kites. He would always say lets just fish two live baits so we can concentrate on just them, we only need one fish… why eight baits. Well that day we had 5 big cow Dolphin at once, all over 20 pounds. Then the big Bull showed him self and ate the 6th bait. Adam quickly did a little fishing rod "shell game" in the name of a tangle and some how our angler wound up with the Big Bull on his rod. Next Adam one by one tightened the drags on all of the other fish. Quickly we put two in the boat and just as quickly we broke off the other three big cows. After an hour fighting the big bull with a very soft drag we got our shot and put him in the boat. Only Adam would intentionally try to break off 5 big 20+ Dolphin to increase the odds of catching the one so our customer could get his trophy mounted. I was angry and knew we could have caught them all, Adam replied "all we needed was the one". He was right… Our tip was BIG and that customer I am sure still has his trophy on his office wall. That was Adam, he knew the business of the charter fishing business.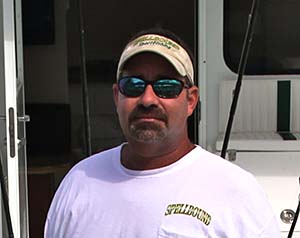 Capt. Jay owns and operates the Miami fishing charter Capt. Jay's Deep Sea Fishing. Capt. Jay has fished Miami for more than 40 years and holds several I.G.F.A world records and has won multiple tournaments, including the METT tournament and the fun fish boat in the Miami Billfish tournament. Capt. Jay discovered a new species of tilefish and had the honor of naming the fish (Bahama Tiger Tilefish).