Summer Amberjack Fishing Miami – Capt. Jays Deep Sea Fishing Miamiis not traditionally the best time of year to target the large Greater Golden Amberjacks off Miami & Miami. Although the past few years have been less than traditional. To our surprise we were targeting grouper on some of the deeper wrecks this past week and found some great action with some Summer Amberjack Fishing Miami.
Catching Amberjack's Spellbound Style
We were fishing long leaders with live Bonita and Jacks. Fishing close to the bottom adjacent to some larger ship wrecks. The Amberjacks or AJ's as they are locally known are aggressive on the attack and hard fighters, all the way to the surface. Once we locate Amberjacks we change our fishing strategy a bit. We move the bait up off the bottom a bit and move a little farther from the wreck. The Amberjacks will use most of the bottom of the water column to feed. Our landing to hookup ratio increases.When we are a bit farther away from the ship wreck.
If we are able to coax bites from the Amberjacks away from the wreck, we will scale back the leader size. Although the longer the leader the more bites we will typically have. The hook is chosen to match the bait, not the size of the game fish. The size of the weight is chosen considering the strength of the current and wind. The most important element is to get and keep the live bait in the hot zone.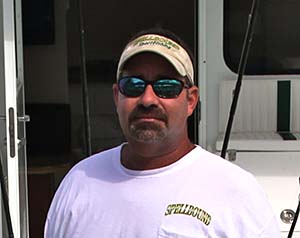 Capt. Jay owns and operates the Miami fishing charter Capt. Jay's Deep Sea Fishing. Capt. Jay has fished Miami for more than 40 years and holds several I.G.F.A world records and has won multiple tournaments, including the METT tournament and the fun fish boat in the Miami Billfish tournament. Capt. Jay discovered a new species of tilefish and had the honor of naming the fish (Bahama Tiger Tilefish).