Miami Fishing Report Summer Fishing brings in large catches and a wide variety of sport game fish. This past week we caught Sailfish up to almost 7 feet, Tunny Tuna to 20 pounds, Blackfin Tuna about 6 Miami Fishing Report Summer Fishing – Giant Almaco Jackpounds,Tunny Tuna, Kingfish over 20 pounds, Mutton snapper, Yellowtail Snapper, Amberjack up to 30 pounds, Grouper to 10 pounds, Mahi Mahi (Dolphin Fish) to 15 pounds and Wahoo to almost 40 pounds. The warm Gulf Stream waters are the migratory home to all of these great Sport Game fish. In the Summer, the Gulf Stream current is the close to the beach. This week less than 2 miles out. Most of the fish we sea are migrating North up to cooler waters. This primal instinctive urge to migrate to the cooler waters brings a vast variety of Game Fish close to our shore. With the Deep Reef only a a mile or so off shore and the Gulf stream washing up on top of the Deep Reef, we see all kinds of fish close to shore.
A Lot of Trolling This Week
This weeks Miami Fishing Report Summer Fishing was made with a lot of trolling. This time of year the Sport Game Fish want to see fast moving baits. We troll six or seven rods with eight or nine combinations of lures and baits and two or three teasers. We make a lot of commotion on the surface to get the Sport fishes attention. We use lures, feathers, natural baits like Ballyhoo, Bonita strips and Mullet to get the best surface bites. We also pull two planers driving baits down to over 60 feet. Artificial baits like spoons work best on the deep lines.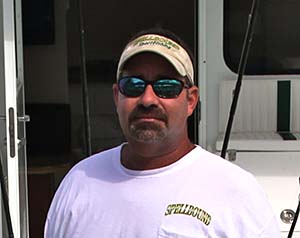 Capt. Jay owns and operates the Miami fishing charter Capt. Jay's Deep Sea Fishing. Capt. Jay has fished Miami for more than 40 years and holds several I.G.F.A world records and has won multiple tournaments, including the METT tournament and the fun fish boat in the Miami Billfish tournament. Capt. Jay discovered a new species of tilefish and had the honor of naming the fish (Bahama Tiger Tilefish).