Miami Summer Wahoo Fishing
Summer Wahoo Fishing in Miami Fl heats up about half way through the summer and peaks at the beginning of the Fall. As the full moon in late July or early August approaches, Wahoo find their way to the edge of the reef and western edge of the Gulf Stream. Tunny Tuna will be in full migration along the deep reefs off South Florida. Wahoo will be right behind them. Smaller wahoo are feeding on the same prey fish as the Tunas. While the Larger Wahoo are feeding on the Tunny Tunas.
Summer Wahoo Fishing with Capt. Jay's Deep Sea Fishing
Summer Wahoo fishing is just a lot of fun for our guests and a Wahoo is always a welcome guest aboard the Spellbound. We catch most of our Wahoo trolling and like speeds from about 6 knots to over 12 knots. The speed is directly related to the baits or lures we are pulling. Hand cut Bonita strips from fresh caught Tunny's is one of our favorite baits. We add skirts and either lures or sea witches and rig the strips on an 8/0 to 12/0 hook depending on the size of the strip. We will typically use a piano wire leader consisting of either #8 0r #9 wire for catching Wahoo during the hot summer months in Miami, FL.
We also offer kids fishing trips, inshore reef/ offshore fishing and custom charters to fit your needs. If you are just two people or more than 20, we have the perfect fishing trip for you. We are located in the Haulover Park Marina, just minutes to the deep water and fishing grounds.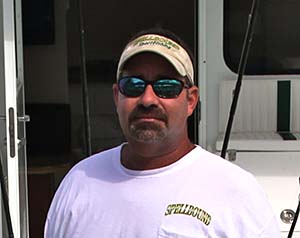 Capt. Jay owns and operates the Miami fishing charter Capt. Jay's Deep Sea Fishing. Capt. Jay has fished Miami for more than 40 years and holds several I.G.F.A world records and has won multiple tournaments, including the METT tournament and the fun fish boat in the Miami Billfish tournament. Capt. Jay discovered a new species of tilefish and had the honor of naming the fish (Bahama Tiger Tilefish).