Windy Weather & Rough Seas
Windy Weather Fishing Miami… we survived our first Hurricane scare of the year. We got hit by Hurricane Mathew, but Windy Weather Fishing Miami the worst of the weather missed us by about sixty miles. As soon as the hurricane passed by us to the north, our first "Winter" type "North Easter" moved in. We have had a full week of rough seas and high winds. Every year in October we get this "Nor Easter" for a week or so. It's a good thing. It gets the winter fish like Sailfish, Kingfish, Bluefish, Spanish Mackerel, Amberjacks and many others migrating south through our area.
Beating the Rough Seas By Fishing in the Bay
A few of our groups with kids or seniors that did not want the high seas adventure chose to fish for smaller, but action packed fish in the bay. Lot's of wind but calm waters brought us action with Tarpon, Lane Snappers, Pompano, Bluefish, Jacks and assorted small bottom fish. We know winter is just around the corner. We found steady action with Bluefish and small Pompano. Using six pound spinning tackle and a combination of cut bait and shrimp put our anglers on steady action. We also cast netted a bunch of Finger Mullet. The Bluefish bites were steady on the live mullet. We also caught a few Jack Caravelle's and Tarpon on the Finger Mullet.
We also offer kids fishing trips, Shark Fishing trips, Offshore Wahoo Tuna and Mahi trips, Swordfish, Sailfish fishing trips, Bottom fishing for Snapper & Grouper and any other custom fishing trip to fit your needs. If you are just two people or Ten or more we have the perfect fishing trip for you. We are located in the Haulover Park Marina, just minutes to the deep water and fishing grounds !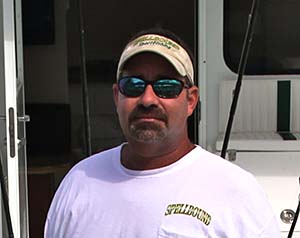 Capt. Jay owns and operates the Miami fishing charter Capt. Jay's Deep Sea Fishing. Capt. Jay has fished Miami for more than 40 years and holds several I.G.F.A world records and has won multiple tournaments, including the METT tournament and the fun fish boat in the Miami Billfish tournament. Capt. Jay discovered a new species of tilefish and had the honor of naming the fish (Bahama Tiger Tilefish).